2019mon30sep18:3020:00FeaturedThe IMF and the Greek Crisis: myths and realities18:30 - 20:00 The London School of Economics and Political Science, Houghton Street, WC2A 2AE London, United KingdomEvent Category:Business & Lectures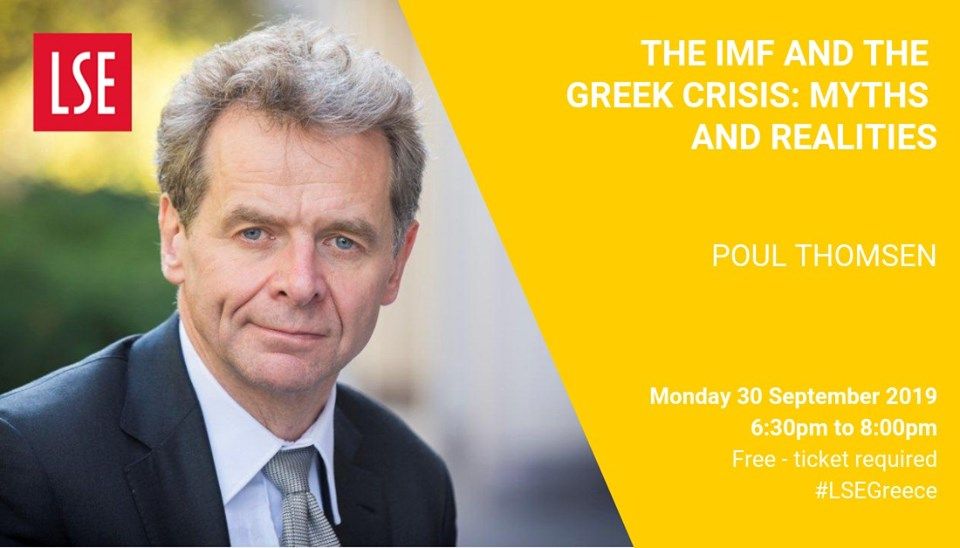 Time

(Monday) 18:30 - 20:00
The London School of Economics and Political Science
Houghton Street, WC2A 2AE London, United Kingdom
Event Details

Ten years after the start of the Greek crisis, the discussion will centre on the role played by the IMF, its coordination with the European Union, and the lessons to be learned in the case of future crises.

Poul Thomsen has been Director of the European Department at the International Monetary Fund since November 2014 supervising the Fund's bilateral surveillance work for the 44 countries in the Department, its policy dialogue with EU institutions, including the ECB, and its program discussions with European countries with Fund supported programs.

As Director Mr Thomsen also has the responsibility for the Fund's outreach activities in Europe and its interactions with European senior officials. Before taking up his current position, Mr. Thomsen had, as Deputy Director of the European Department, the primary responsibility for the Fund's programs with European countries affected by the global financial crisis and the subsequent crisis in the Euro Zone, including as mission chief for Iceland, Greece and Portugal and as supervisor of the programs for Romania and Ukraine. Before the global financial crisis, Mr. Thomsen gained extensive knowledge of countries in Central and Eastern Europe, having worked on the region continuously from 1987 to 2008, including as mission chief for multiple countries in the region, head of the Fund's Russia Division during the 1998 Russian financial crisis, and Director of its Moscow Office from 2001 to 2004.

Kevin Featherstone is Eleftherios Venizelos Professor in Contemporary Greek Studies and Professor in European Politics and the Director of the Hellenic Observatory.

The Hellenic Observatory (@HO_LSE) is internationally recognised as one of the premier research centres on contemporary Greece and Cyprus. It engages in a range of activities, including developing and supporting academic and policy-related research; organisation of conferences, seminars and workshops; academic exchange through visiting fellowships and internships; as well as teaching at the graduate level through LSE's European Institute.
Ticket Price
Free; ticket is required | Only one ticket per person can be requested
Organizer
Hellenic ObservatoryEstablished in 1996, the Hellenic Observatory is internationally recognised as one of the premier research centres on contemporary Greece. It brings together a core group of LSE academics, and a range of Research and Visiting Fellows, to create a multidisciplinary network of scholars focusing on the social sciences. Observatory staff and visitors conduct individual and group research projects, published in high quality outlets, and the Observatory also supports its own publications. Further, the Hellenic Observatory has an extensive schedule of public lectures, seminars and conferences (including a biennial PhD Symposium), enabling the Observatory to be a leading forum for the exchange of views and opinions on the Greek economy, politics and society in its domestic and international contexts.hellenicobservatory@lse.ac.uk