How is it to live a Life like an Expat? 9 Cities in one Story - Hope you enjoy this journey!
1990 – London, England
"Can you speak French?" my (soon to be) husband asked me.
"I studied it at school for 8 years! I can get by", was my reply.
"How do you fancy moving to Casablanca?" he asked me. "I've been offered a good job there".
"Woop! How exciting! Let's go….Er, where is Casablanca?" was my response.
And so began our (almost perpetual) journey of Expat life. Let me break the last 28 years down into chapters –Hope you enjoy this journey!
Chapter 1 – Casablanca,  Morocco 1990-1993
So, summer 1990 I found myself newly married, pregnant and excited to start a new adventure in North Western Africa.  I very quickly discovered that, in fact, my (extremely boring) French lessons were as good as useless! We were staying in the hotel where my husband worked whilst our apartment was being re-decorated.  The housekeeping staff would enter daily and chat to me; ask me questions; and I would just shrug my shoulders in reply.  I understood next to nothing!   Anyhow, I was, in those early days, a lady of leisure enjoying hotel life. After about a month there was a lady on the sun lounger next to mine by the pool; she had two adorable little girls. We struck up a very broken conversation, between her limited English and my extremely limited French. It turned out that she was local.  And thus began a very good friendship that actually heavily influenced our time in Morocco. We spent a lot of time with the Bennis family and their friends; we effectively became a part of their family. Whenever any of our family or friends came to visit us (which was often), they also became a part of the Bennis family; such is the hospitality in Morocco.
HOW TO SURVIVE AS AN EXPAT IN CASABLANCA – The number one, 'Golden',  rule of how to survive as an expat anywhere in the world is to see your time there as an adventure.  Rule number two is to adapt – no other country is ever going to operate like 'back home';  If you want everything in your life to be like 'back home', then my advice is to stay 'back home'.  OK, you're in a new town, in a new country, go out and embrace what is on offer!. Buy local produce and make the most of it!  Meet local people and speak to them, have a chat. Casablanca has some amazing markets, with delicious fruit and veg and awesome fresh fish – I wasn't much into fish until I lived there ;  and chances are, you'll find friendly, chatty stall holders.  Learn words in the local language that will help you at the market, like numbers.  Rule number three (this may seem controversial) is to not fall into the trap of joining the Expat clubs and then totally rely on them as the hub of your social life – again, if you want to be surrounded the whole time by your co-patriates – STAY HOME! Ok, I admit, we were lucky to have met a really great Moroccan family right at the beginning of our time in Casablanca but, my goodness, what a difference that makes when you integrate with the local community.  We became immersed in the local culture; learned about local customs; joined in with local traditions; spent many nights in their house meeting more and more people; visited many different parts of Morocco, went to a local wedding.  It was so, so interesting.
An expat lady, who gave birth almost the same time as I did, and I began a mother/ baby group because there was little support for new mothers.  I very quickly learned how to not be an EXPAT.   The women at these gatherings spent their time complaining about everything. AARRGHH! Please refer to my expat rules above. Nothing more to say!
So. Three years later, I left Morocco with a lot more knowledge of the country and its customs and semi fluent in French.
Chapter 2 – Istanblul, Turkey 1993 -1997
OH WOW! ISTANBUL! We found the perfect apartment about 15 km out of the city centre on the edge of the Bosphorus Strait, overlooking this busy waterway.  (If you're not familiar with the layout of Turkey, the Bosphorus splits Turkey (and Istanbul) between the European and Asian continents. What an amazing view!!  The Landlady and her family occupied the top floor and we established a great relationship with this family and spent many summer weekends with them in their summer house on the Princes Islands (a ferry ride away from the city).
One of the first things I did was to learn the numbers (as mentioned above, a great survival tool) in Turkish so I could haggle at the market also try to reduce being ripped off as a foreigner. I took some basic lessons and learned phrases equivalent to "I'm not a tourist, I live her" etc.  Surviving in Istanbul (in addition to the rules above) is based on the necessity to be patient in traffic, closing your eyes in a taxi and leaving plenty of time to get from A to B. It is a huge, sprawling, heavily populated city with horrendous traffic problems.  That aside, we had a ball.  We bought and shared a boat with a Turkish family and spent many weekends sailing around the waters close to Istanbul.  The history and buildings and tourist attractions of the city were phenomenal.  I did not grow tired of taking our many visitors to The Grand Bazaar, The Agia Siophia, The numerous palaces and mosques; I was totally in awe of it all.
Chapter 3 – Muscat, sultanate of Oman – 1997 – 1998
Muscat was a very quiet and small city after Istanbul. It was our first of  four Middle East (GCC) countries, so I will discuss a bit later, simply because just before leaving Istanbul we were, unfortunately, involved in a motorway pile up and I sustained a head injury that  impacted this chapter in our life and I only vaguely remember snippets so I am going to skip it.
(1998- 2004 back in England)
Chapter 4 – Athens, Greece – 2004 – 2009
We arrived in Athens a short while before they hosted the Olympics.  The road system was in total disarray.  But, all was miraculously ready in time and we attended a few event s and had a fabulous time.
Like in Turkey, we rented a house where the landlady and her family also lived.  Once again, we established a great relationship with this family and spent a lot of time with them.  Our children have been back on a few occasions and stayed with them.
Now, the Greeks and the Turks won't like this next statement, but the way of life is very similar in both countries.  This is hardly surprising considering their intertwined historical past.  However, the special rule of survival in Athens is that if you respect "yiayia" then all will be well. This is the word for "grandmother" but is also used as a general term for elderly ladies.  Let me tell you, they totally rule the roost.  They demand (and receive) respect from all.  If a Yiayia wants to jump the queue  in a supermarket, you let her.  If a yiayia is heading towards you in the market pulling her shopping trolley behind her, you step out the way and let her pass, at the same time preserving your ankles and avoiding a deluge of verbal abuse!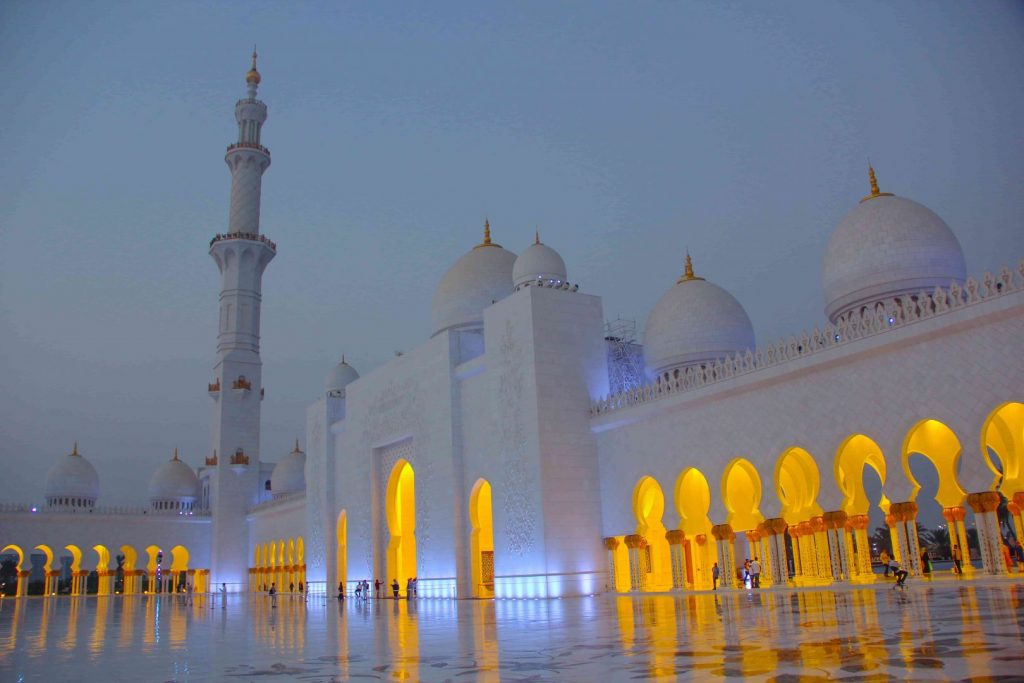 Chapter 5 – Abu Dhabi, UAE – 2009 – 2011
OK. If you find yourself posted to a GCC country, all I can say is "throw that rule book away".  This is a different beast altogether.  How to survive here is first and foremost, respect the local culture – dress respectfully, observe the rules about alcohol etc. Basically, follow the rules that are set and follow the motto "Do as I say, not necessarily as I do".  Just keep your nose clean and quietly go about your daily life without ruffling anybody's feathers.  Second rule is, either escape for the summer, or learn very quickly how to deal with the extremely intense heat.
(2011 – 2014 back in England)
Chapter 6 – Doha, Qatar – 2014-2015
So, take what I said about Abu Dhabi and double it.  Doha is more conservative and insular so whenever out and about I always took a pashmina and covered myself.  The locals are not in the least bit interested in striking up a conversation, so quite simply, don't! The Qataris maintain a ain and "them and us" attitude and they keep a noticeable distance from foreign interaction.
Chapter 7 – Inverness, Scotland 2016 – 2017
Ok, so not exactly an expat in Scotland, but still worth a mention.  A fabulous posting in a beautiful country. There are two main rules of survival here:- 1. Invest in good quality winter clothes; 2. Avoid drinking with locals!
Chapter 8 – Dubai, UAE – 2017 – present
We have rented an apartment in Dubai Marina, opposite Jumeriah Beach Residence. This is predominantly an expat and tourist area and when we first arrived I was shocked!! "Why? you may well ask. Well, simply at how people dress, to be more exact, at how little people wear. It is like being in ST Tropez or Costa Brava! And now/ guess what? My GCC rules have gone right out of the window! Hats off to Dubai for embracing tourism and making allowances (turning a blind eye) for a more liberal society. However, my advice is to still be respectful if you are venturing into downtown Dubai, or visiting one of the Shopping Malls, where you will likely mingle with Emirates. Bear in mind, you are still a guest in a Muslim country.
Conclusion
I hope you have 'survived' this Expat survival guide. I know it has conflicting advice. The only constant wherever you go is to always remember you are a guest in another country. Their rules and customs are going to differ to the ones you will have grown up with. RESPECT them. Stay within the rules. Wherever possible, immerse yourself into their lifestyle ; make the most of your experience. Go! Get out there! Explore! Enjoy!!