The first ever event to connect Greek and Cypriot educators, professionals and academics in London
"Our Life in the UK", the first ever event to connect Greek educators, professionals and academics, took place on Saturday, the 3rd of November; an event prepared with love and passion, a day full of workshops, short talks, seminars, activities for children and adults as well as …lots and lots of networking! A special Anglo-Hellenic day where the two languages merged! Career tips, professional development, studying English and the life of a mother in the UK were was only a few of things we discussed.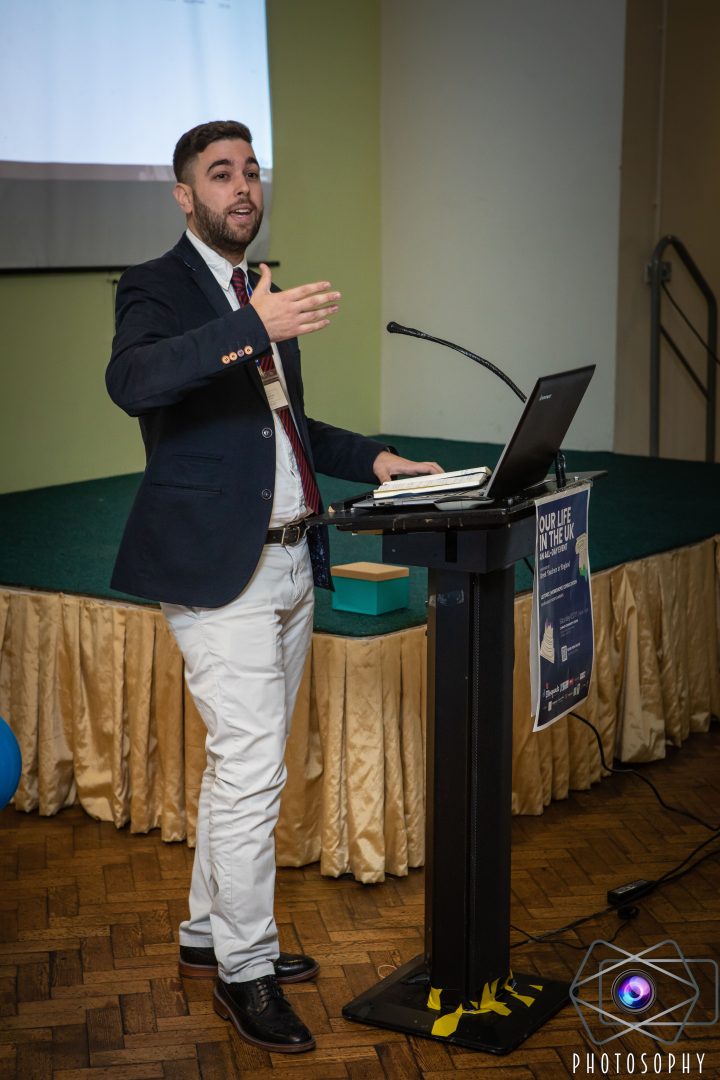 We had the pleasure of welcoming the psychologist Dr Christina Bogiatzi, the well-known children's book writer Foto Skorda and the team behind Ellinopoula from Athens. Also, Mrs Anna Sakkis, director of the platform Ellinopoula, travelled from New York in order to attend the event. The event commenced with a speech by Victoria Moulinou, founder of the online community, presenting a review/outline of the initiative and its journey. After her speech, Christina Panagopoulou took over to speak about the community of Greek Nursery Teachers that she established 10 years ago through her platform www. teachintheuk.com.
Mrs Maria Papalouca informed the attendees about the actions of the Cypriot High Commission in the UK and the work done in the Greek Community Schools in London.

Marios Georgiou followed and spoke about the success story of his teaching agency, Step Teachers, and gave practical advice on how educators can advance professionally. Dimitris Alafouzos, an eminent accountant in London, gave us information on professional development in London. Finally, Anna Sakkis, presented the innovative platform for learning Greek, Ellinopoula.com in an interactive way.
After a long break full of conversations and networking, Eleni Georgiou talked to us about her personal career and her achievements in educating through music, while Christina Bogiatzi took us on a journey following a child's learning milestones and their particular characteristics. After that, the talented Tasos Vakalopoulos suggested 10 steps for a successful career in the UK, based on his own experiences.

Furthermore, Sotiris Polichronis talked to us about child speech therapy and Michalis Tzanis presented the most important characteristics of STEM education. Pavlina Kostarakou made a brief presentation of the ideas behind Books and Solidarity. Finally, Panagiotis Skoutelis described his experience of being a "foreigner" teacher in London in a very lively and descriptive manner.
Short talks & seminars for educators, student & parents:
Victoria Moulinou, ESOL and Greek Teacher & 'Greek Teachers in England' Founder, BA(Hons), M. Ed., Our Community in the UK
Christina Panagopoulou, Reception Teacher, MA Comparative Education, 10 years Greek Preschool Teachers in England
Maria Papalouca, Educational Counsellor of Cyprus High Commission, School Inspector – Head of Cyprus Educational Mission, Cyprus Educational Mission and its contribution to the Greek-Cypriot Community and the Greek Community schools in UK
Marios Georgiou, Chairman & Co-Founder Step Teachers, REC Education Sector Executive Committee Member, B.A. Hons PGCE FIRP, Interested in a Career in Teaching? Our Top Tips! 
Dimitrios Alafouzos, Director Sword and Trowel Ltd, Professional Life and Development in the UK
Anna Sakkis, Director of Ellinopoula.com, Introducing Ellinopoula.com – A Fun and Effective Online Platform for Teaching Greek to Kids
Eleni Georgiou, Director of "Asterakia", Raising a little Greek in London and the creation of Asterakia
Christina Βogiatzi, Child Psychologist MA, Speech Therapist MA, PhD, Children's Developmental Milestones
Tasos Vakalopoulos, Learning Technologist and Content Developer, London Metropolitan University, 10 Steps to Success. My path in UK Academia 
Sotiris Polychronis, Highly Specialist Speech and Language Therapist, MSc, BSc (HONS), Cert MRCSLT, HCPC reg., Paediatric Speech and Language Therapy: Everything Parents Would Like to Know
Michail Tzanis, Science/STEM Teacher, BSc Physics, MSc Computing & Info Systems, Introducing STEM Education 
Pavlina Kostarakou, Director of "Diavazo Greek Books" bookstore, Books & Solidarity
Panagiotis Skoutelis, EAL Teaching Assistant at Hampstead School (London), B.A., A Foreigner in London's Secondary Education
The event was hosted by KITE Music, Greek mothers in England, Greek EYFS Teachers and Educators in the UK and Greek Teachers in England
The seminar was supported by a number of sponsors from the Greek and Cypriot community in London; Ellinopoula, Step Teachers, Webplanners, Asterakia, Diavazo Greek Books, GreeksConnect, Kite Music School, The Greek Secret Philotimo, Despina's Home "It's all craft to me", TutorSupply, Manina's Cake World, The Real Greek, Oh My Greek, SALPRINT, Ελληνική Δανειστική Βιβλιοθήκη Λονδίνου, Luxury Transfers, Hellenic Greek TV London
GreeksConnect is proud to be part of this family!!